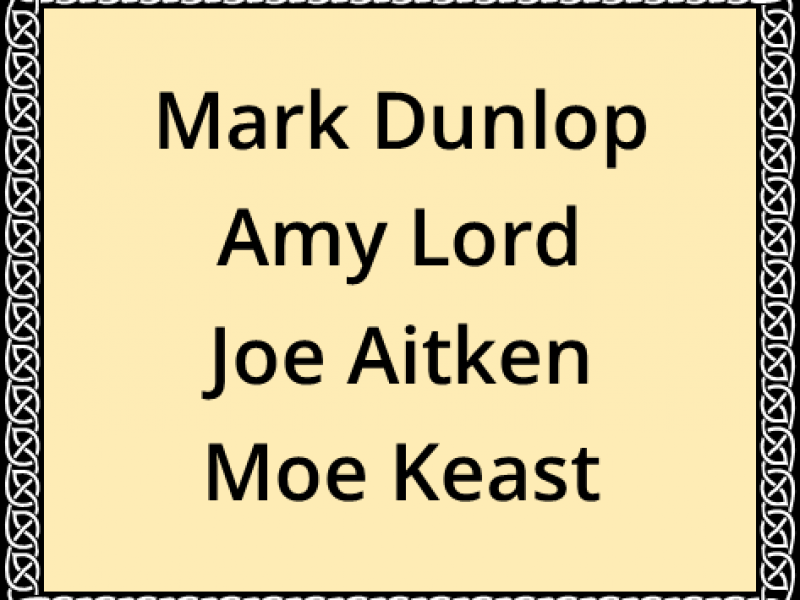 This year's Tradition Bearers concert of traditional song featuring Mark Dunlop, Amy Lord, Joe Aitken and Moe Keast.
Mark Dunlop
Mark Dunlop comes from a musical family and has been singing in company for years. He moved to Scotland from Northern Ireland to study in the early 90s. As a founder-member of Malinky Mark has been promoting traditional song since the band's beginnings 20 years ago. He has emerged as a wonderfully sensitive interpreter of traditional Irish and other songs. His solo album 'Islands on the Moon' is a fine showcase of Ulster song, as well as singing Mark plays bodhrán and tin whistle.
Amy Lord
Growing up in a musical home in Dunblane, Amy's love for Scottish traditional music and song was forged from an early age. She studied Scottish Music, specialising in Scots song and language at the Royal Conservatoire of Scotland (formally RSAMD) and in 2015 was a nominee for Scots singer of the year in the MG Alba Scots Trad Music Awards.
Joe Aitken
Joe Aitken is one of the great upholders of Scotland's bothy ballad tradition and a singer of Scots song who has taken his native tradition to appreciative audiences all over Scotland, England, Ireland and Germany. The winner of many singing competitions for his authentic narrative style, Joe is literally a champion of champions, having won for a record six times the much-coveted porridge bowl, spoon and Donald Ferguson Memorial Trophy competed for annually by Bothy singing competition winners at Elgin Town Hall.
Moe Keast
Moe Keast is a celebrity in her native Cornwall making a rare trip north of the border to see us. She started as a singer performing in concert as a child, and eventually became a Bard of the Cornish Gorsedh* Her repertoire embraces a wide range of traditional Cornish material, some in the Cornish language, as well as authentic music hall and variety songs.
*Gorsedh means 'a Bardic assembly'. It comes from the ancient Celtic word meaning 'high seat' or 'throne'. The Gorsedh of the Bards of Cornwall exists to maintain the national Celtic spirit of Cornwall.
The host for the concert will be well known local singer Annie Reid