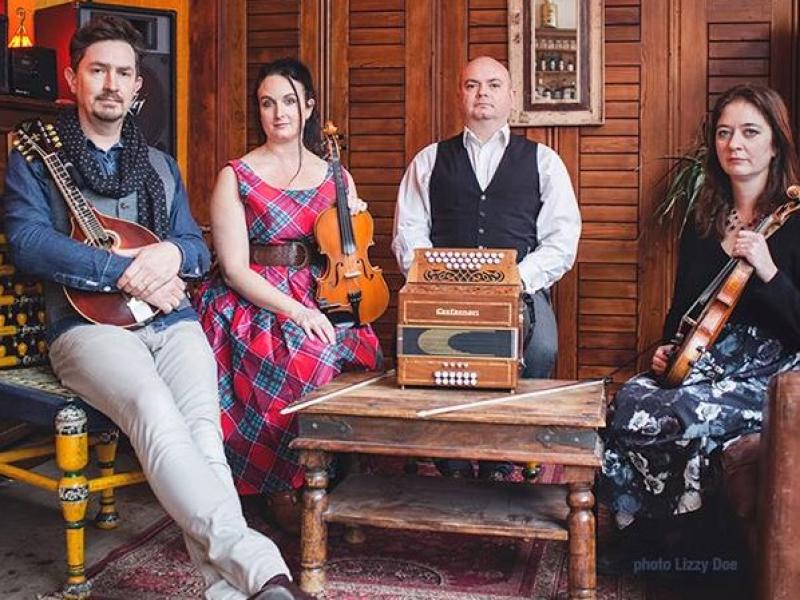 In concert, Melrose Quartet perform a diverse repertoire – carousing chorus songs, lovely harmonies, lively dance tunes, ancient stories and modern pieces written in celebration of everything from weddings & birthdays to issues that affect all of our 21st century lives. This is music for everybody.
The band are:
Nancy Kerr - Fiddle and voice. BBC Folk Singer of the Year 2015 and well-loved for her appearances with The Sweet Visitor Band, Martin Simpson, The Full English, and especially for her multiply awarded duo with husband James Fagan. 
James Fagan - Voice and Bouzouki wizard, multi-instrumentalist and singer of traditional and contemporary songs especially from his native Australia. 
Jess Arrowsmith - voice and fiddle. Highly renowned singer and fiddler Jess performs with husband Richard as a duo, in ceilidh band Hekety, and in transatlantic trio Arrowsmith.
Richard Arrowsmith - voice and melodeons. Box virtuoso and bass singer of great warmth and depth, Richard is recognised as one of the finest players of traditional dance music on the scene. Alongside his work with Jess in duo, trio and full band form.