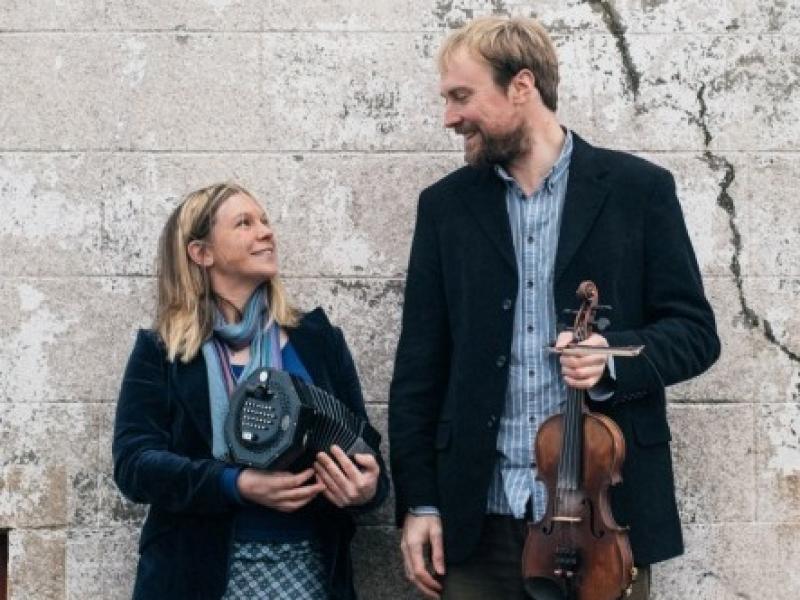 Renowned for their exciting performances and spontaneous harmonies, Frances Wilkins (concertina) and Ronan Martin (fiddle) have joined forces to play music rooted in the tradition and brimming with character.
Frances Wilkins is internationally recognised as a leading exponent of the English concertina. She took up concertina while immersed in the rich musical culture of Shetland in the 1990s and within a year she was touring professionally and playing regularly with some of Shetland's greatest fiddle players.
Brought up in a musical family on the Isle of Skye and with a fiddle in his hands by the age of three, Ronan Martin plays the classic dance music of the north and west with toe-tapping energy and an uplifting and joyful style. In 2008 Ronan released his debut solo album of Highland music to great critical acclaim.
Together they play an exquisite selection of upbeat marches and strathspeys, haunting airs and lively jigs and reels.
As a duo they have toured in Canada, America and Germany appearing on radio and television including CBC. Back at home they play at festivals and regularly perform for National Geographic tours throughout the summer season.
"she makes the concertina talk and sing" - Living Tradition Magazine
"astonishingly crisp and powerful" - Fiddler Magazine (USA)